Once you have logged in and set up your applicant profile, It is time to start applying for jobs!
Step 1- Search Jobs
On the dashboard you will find a tab SEARCH JOBS, click onto this and it will bring up a screen
with space to enter up to 5 Keywords
Enter these based on your search requirements and distance scale. This will then bring up roles
based on these (If you require further information about keywords then please see resources page).
Step 2- Apply
once you have found a job that you wish to apply for hit the APPLY tab.
This will then bring up one of 2 different screens-

If the employer/ recruiter has requested that applications be saved on the system for them to view at a later date then this screen will appear-
If they have asked that applications are to be emailed to them directly this screen will pop up-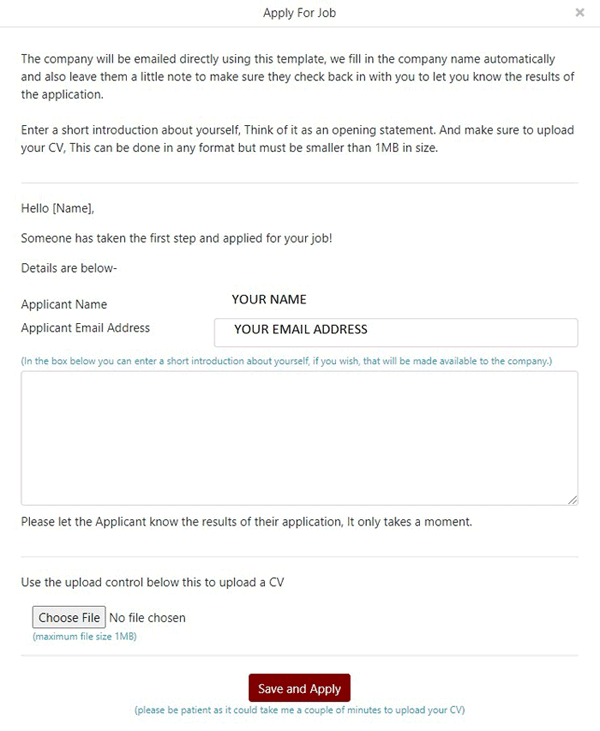 As you can see the screens are slightly different. If the company has been requested to be emailed directly you will see that we have set up a template for this to happen, don't worry about the wording as this is for them. Just follow the instructions below and hit send.

Add a short introduction as requested and attach your C.V (maximum size of 1MB) once this is complete then hit the save and apply button! This will then either send a direct email to the employer/recruiter with your details or they will be stored for them to view at a later date.

You will see all jobs that you have applied for in the MY JOBS tab at the top of the screen. If you have been unsuccessful in your application this will be found in the UNSUCCESSFUL APPLICATIONS tab. If the employer has left a reason for this decision you will see a supporting message underneath the job description.
---